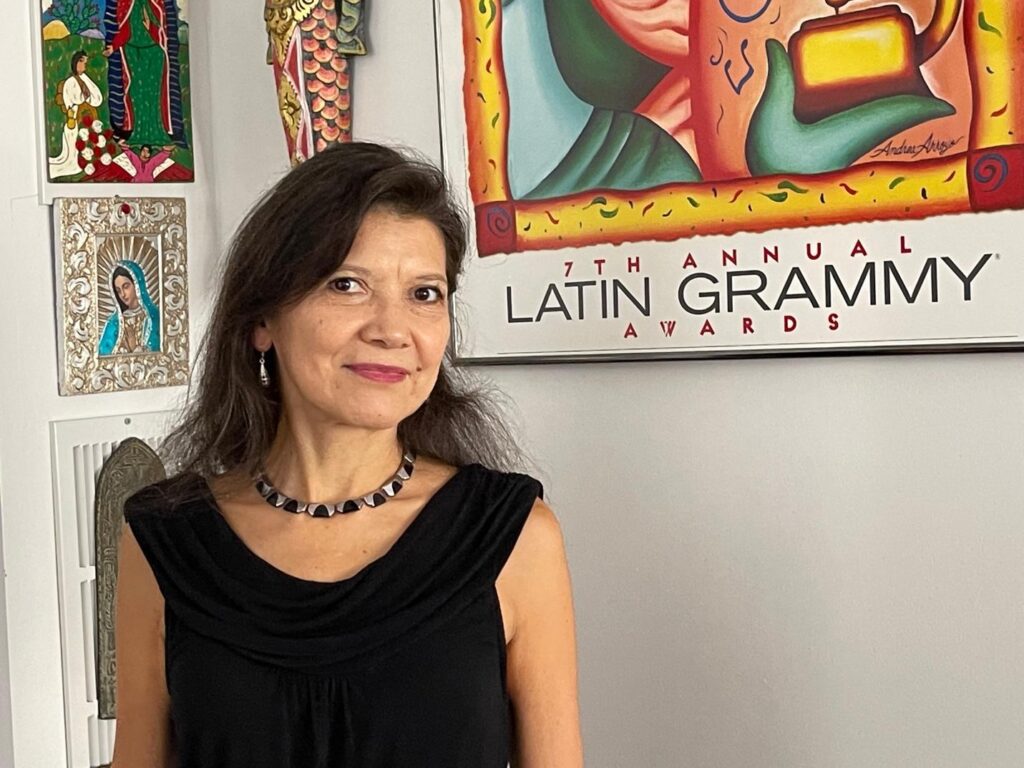 Andrea Arroyo, is a self-taught visual artist born in Mexico, and residing in New York City since the 1980's. Her works are in painting, illustration, site-specific installation, artists' and children's books, and public art. Her work is exhibited and collected internationally. She is also a curator focusing on women/gender issues, discrimination, immigration, and the state of todays' growing environmental crises. She has earned many commissions, awards, and grants and has exhibited her work solo and in hundreds of collections.
Ms. Arroyo first came to New York on a 6-month dancer's scholarship from the Merce Cunningham Dance School.  During her first professional dancing tour in Europe, she visited museums featuring ancient art of Western Asia Mesopotamia. The beauty etched into walls dating back to the 7th century brought tears to her eyes and she felt an immediate connection. As soon as she returned from Europe, she went shopping for the tools of an artist, and began to explore her talent. After building a small collection, she visited an art gallery with photographs of her work. It earned her the invitation to exhibit for her first show and as she says, "the rest is history." 
History it is. Ms. Arroyo has been creating her works for the past 40 years and has had many opportunities to exhibit her art earning awards, commissions, and recognitions. During an interview in her studio, she describes her work as being influenced by the West Asian Mesopotamian period of art, and the soft movements of a dancer, of which she is familiar with from her first passion. Her first works were sculptures because of her familiarity with the three-dimensional aspect of body, movement, and space in dance. With many inspirations from various painters such as Matisse, Degas, and depending on the project, Frida Kahlo and others, Arroyo grew towards drawings applying light and bright color to her paintings.
She considers herself lucky to have found a style that afforded her the ability to make a living early in her visual art career. She continues to exhibit her solo works, which she has accumulated by consistently producing new pieces. Her earnings through the commissions allows her to continually create new works. 
Ms. Arroyo has published her first book of her images entitled ImagiNATIONS: Art as Solidarity. She sees the world as needing "creativity and imagination to change the world." She became inspired by the dynamics of the negative political air of this time and lack of progressiveness. Ms. Arroyo aims to inspire positive change in others. She addresses issues as immigration, environment, racism, sexism, and gender identity in her book.
One of her proudest moments is as the artist who designed the poster for the 7th Annual Latin Grammy Awards. Her artwork was used for all the promotional materials seen by millions around the world. In addition, she refers to her installation at the New York Botanical Gardens as another proud moment– a tribute to Frida Kahlo and Dia de Los Muertos – which was a beautiful and colorful altar that broke visitor records through the outstanding turnout of the Mexican community. Confirming the huge impact of the installation was the discovery of small pictures and letters visitors left behind to honor their deceased loved ones.
Ms. Arroyo's art is displayed in The Library of Congress, The National Museum of American History, Smithsonian Institution, The National Museum of Mexican Art, The Richmond Museum, and The New York Public Library.
Public art projects in New York City include permanent artwork for private and institutional spaces, including a subway station and two public schools. Additional commissions include projects for Morris-Jumel Mansion, ArtBridge, New York Restoration Project, El Museo del Barrio, the International Museum of Women, the Women's Rights Historical Park, and the Elizabeth Cady Stanton Museum.
Andrea Arroyo's artwork has been published extensively, including on the cover of The New Yorker, The New York Times, The Nation, and The Manhattan Times. Additionally, her work has been the subject of over two hundred features in: The New York Times, The Daily News, The Manhattan Times, The San Francisco Chronicle, ArtNet News, The Feminist Observer, NBC, CNN, NY1-TV, Pix11, Telemundo, Televisa, TV Azteca, La Jornada and Proceso. As well as the International Herald Tribune, Chartis (Greece,) Fanyblog, Pagina21, WeEmpower and Buduar (Italy) Hauser (Germany,) O Farelo (Spain,) and Voxeurop (Europe,) and in numerous children's books.
Her long list of honors and awards includes the New York Foundation for the Arts Fellowships, Creatives Rebuild New York Fellowship, Global Citizen Award Artist, Clinton Global Initiative, 21 Leaders for the 21st Century, Outstanding Woman of New York, Groundbreaking Latina in the Arts, Outstanding Latina of the Year, Northern Manhattan Arts Alliance (NoMAA), Google/Hispanic Federation Award; NYC Artist Corps; and multiple awards from the Puffin Foundation, The Upper Manhattan Empowerment Zone, the Harlem Arts Alliance and the Lower Manhattan Cultural Council.
As a curator she earned an award for "Unnatural Election: Artists Respond to the 2016 US Presidential Election" an art project comprised of contributions from over 400 international artists. Her many accolades also include the Ranan Lurie International Prize for Political Cartooning of the United Nations and the Prize for "Political Satire" of the Biennial of Humor in Cuba.
To read more about Ms. Arroyo's extensive career and view her work, please visit her website – andreaarroyo.com. Her book is available through Amazon, Barnes & Noble and, for signed copies, order directly on her website.
Credits:
Interviewed by Adela Dalto Moraux, Oct. 14, 2022, NYC.
Arroyo, Andrea. ImagiNATIONS: Art as Solidarity. NowWhat Media. 2022.
https://www.cartooningforpeace.org/en/dessinateurs/andrea-arroyo/