Antonia Coello Novello, M.D.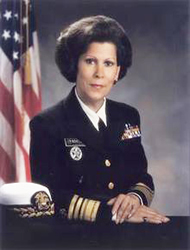 …was the first female and first Latina to become Surgeon General of the United States. Dr. Novello served from 1990 to 1993 promoting antismoking, Aids education, and improved health policy for minorities. By 1999 to 2007 she became commissioner of the New York State Department of Health focusing on programs as Child Health Plus and Medicaid. She was also a UNICEF representative promoting women's and children's health issues to prevent substance abuse and smoking.
As early as 1978, Novello as a member of the National Institutes of Health, rose to deputy director of the National Institute of Child Health and Human Development in 1986. Her congressional fellowship in 1982 and 1983 offered her as a staff member the opportunity to advise legislators on cigarette warning labels and organ transplants, which carved her path to the highest level of Surgeon General.
Novello was born in Fajardo, Puerto Rico on August 23, 1944. As a young girl, she had inherited a painful colon condition. When she was eighteen, Novello had an operation to correct this condition, something that would incite her dream to become a doctor and help ease the suffering of others. Novello received an undergraduate degree and her medical degree from the University of Puerto Rico, where she was considered one of their brightest students. While in school, Novello's mother would not let her work because her mother felt that once she got out into the workforce it would sidetrack her from her studies.
Novello's first work came as a medical internship and residency in pediatrics from 1970 through 1973 at the University of Michigan Medical Center in Ann Arbor. She decided to specialize in disorders of the kidney in children, later becoming a fellow in pediatric nephrology. During her tenure at the University of Michigan, Novello could see the consequences of a poor public health policy, particularly in neighborhoods that lacked access to medical assistance. This motivated her to continue her education in public health at John Hopkins University and earned her Master's degree in 1982. With her solid education in public health policy, it helped Novello move in her career. She joined the National Institute of Health and became a clinical professor of pediatrics at Georgetown University, bonding issues of children's and health policy. Dr. Owen Rennert, one of Novello's colleagues remarked that she "is tremendously concerned about the medical and social problems of children and she has a way of drawing others into that concern."
Novello's growing knowledge in public health policy made her an excellent fit for lawmakers. In 1982, she became a Congressional fellow and advisor to the Senate Labor and Human Resources Committee. Senator Orrin Hatch reported that she had "given good advice on several bills." Her triumph, along with other political factors and great timing resulted in her nomination and appointment as Surgeon General in the Bush administration.
While the president's chief medical advisor, the role of the Surgeon General is to promote health and wellness across the nation. She focused on AIDS-infected children, teenage drinking, mental illness, smoking and breast cancer. Novello also spoke across America for children and Americans without health insurance, particularly for the Hispanic American community. She also encouraged beer and wine companies in the U.S. to stop marketing to teenagers.
Dr. Novello received numerous awards including the James Smithson Bicentennial Medal in 2002. Novello's education, passion and perseverance helped her reach her highest goals.
Sources:
Diane Telgen and Jim Kamp, Latinas! Women of Achievement, Visible Ink Press (Detroit), 1996.
Nicholas E. Meyer, The Bibliographical Dictionary of Hispanic Americans, Facts on File, Inc. (New York), 1997.
https://www.britannica.com/biography/Antonia-Novello, (12/01/2021)