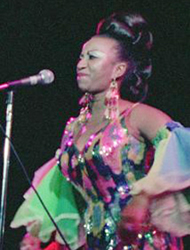 Úrsula Hilaria Celia de la Caridad Cruz Alfonso,dubbed the "Queen of Salsa," touched the lives of her many fans with her lively and colorful performances. Celia Cruz was born in Havana, Cuba on October 21, 1924, she passed on July 16, 2003, with her music pouring out of Latino radio stations, cars, and homes of her acquired generations of loyal fans and who inspired countless voices.
As a young girl, Celia filled her home and her community with song. It was clear from early on that she was going to be a star. But singing wasn't her first dream. Celia wanted to be a teacher, a dream that her parents supported. Celia changed her mind however, when her talent and her blossoming voice eventually led her and her family to realize she should be a stage performer.
Celia's parents were cautious, however, insisting that there be older women in the family at performances to chaperone her. Celia's first efforts as a singer came on Cuban radio in the 1940s. She clearly had a natural talent for singing and decided to further study music at Havana's Conservatory of Music from 1947 to 1950.
Celia's big break came in 1950 when she became the lead singer for La Sonora Matancera, Cuba's top dance band. She began to record with the band and remained in Cuba until 1961 when it was evident that Fidel Castro was about to seize control of the island from the dictator Fulgencio Batista. Celia was forced to flee Castro's Communist revolution. She reached Mexico but decided to settle in the United States along with Pedro Knight a trumpeter with La Sonora Matancera whom she married after a long friendship.
According to Celia, "Castro never forgave me." He refused to allow her to enter the country ever again. Once settled in the United States, Celia found it difficult to find a niche. Pedro Knight became her manager. Latin music had been popular at the time, but the music she performed was something new to American audiences. Celia persevered and soon her mix of rhythms and sounds became known as Salsa. In 1966, Celia united with the Tito Puente Orchestra to perform.
This union proved to be a huge success as Celia performed with Tito Puente for many years as well as performing with the Fania Allstars, a group of individual musicians recording under the record label of the same name. This record label supported the efforts of their artists as Johnny Pacheco, Ray Barretto, and Willie Colon among others, which lead Celia around the world to perform and gain an international audience. Her husband Pedro Knight and now her manager and musical director would always be at her side. Their love could be recognized in their devotion to each other. Celia once said, "if it wasn't for my dear Pedro, I wouldn't be where I am today".
Celia recorded until her death with her final album in 2003. Over the years she has toured to critical acclaim. Celia has appeared at the Grammys and has sold-out performances at Madison Square Garden in New York. She earned two Grammy awards and three Latin Grammys. Celia, a musical play on her life, written by Carmen Rivera and Candido Tirado (2007) premiered off Broadway to sold out shows and later taken on the road.
Celia was one of the most admired singers and stage performers of Latin music. She is honored with a Hollywood Walk of Fame (1987) for her music and appearances in movies, a U.S. Postal Service commemorative postage stamp, many honors and tributes and Latin halls of fame from North to South America.
Source:
The Biographical Dictionary of Hispanic Americans. Nicholas E. Meyer, (1997).