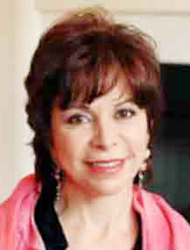 Internationally acclaimed Isabel Angelica Allende, has released her 25th book with, Violeta, published January 2022. Born in 1942 in Lima, she was raised in Chile and lives in the United States. She is among the worlds' most important women novelists as well as a feminist and philanthropist with more than 75 million books sold.
Ms. Allende is also a journalist and playwright, author of several novels, a short fiction collection, as well as stories and plays for children. With 25 published books her most recognized writings are The House of the Spirits, 1982 and Of Love and Shadows, which were made into movies. Other books following soon after were Eva Luna, The Stories of Eva Luna, The Infinite Plan and Paula as she continues to write and publish her books. Her last released of 2021 was The Soul of a Woman and writing continues with the release of Violeta, January 25, 2022. Her books have been translated into forty two languages and has had works "adapted for movies, plays, musicals, operas, ballets and radio programs," (https://s3-us-west-1.amazonaws.com/isabelallende.com/assets/bio/Bio_Isabel-en.pdf?3fbhgnod6) 11/2021.
Her parents, Tomás, a Chilean diplomat, and Francisca (Llona Barros) Allende (the sister of the late Chilean president, Salvador Allende) divorced when she was three. She traveled with her mother to Santiago, Chile, where she was raised in her grandparents' home. Allende graduated from a private high school at the age of 16. Three years later, in 1962, she married her first husband, Miguel Frías, an engineer. Allende also went to work for the United Nations Food and Agricultural Organization in Santiago, where she was a secretary for several years. Later, she became a journalist, editor, and advice columnist for Paula magazine.
In addition, she worked as a television interviewer and on movie newsreels. She earned the Quality Paperback Book Club New Voice Award nomination for her debut novel, 1982; The House of the Spirits, which became a best seller in Spain and West Germany in the 1980s and a 1994 movie. The Los Angeles Times Book Prize nomination for 1984; Of Love and Shadows and in 1988 Allende's third novel, Eva Luna, was voted One of the Year's Best Books by Library Journal. Allende 's writing is a blend of romance and personal hardships mixed with fantasy from her point of view as a Latina and a feminist.
When her uncle, Chilean president Salvador Allende, was assassinated in 1973 as part of a right-wing military coup against his socialist government, Allende, her husband, and their two children fled to Venezuela. Having difficulty finding work Allende devoted her time to writing and began with her memories of her family and the political changes of her country, which brought her much success as the most popular female writer in the world.
A substantial list of her honors and awards are among a 2015 Presidential Medal of Freedom as well as 15 Honorary Doctorates. Isabel founded the Isabel Allende Foundation to honor the death of her daughter, Paula Frias, awarding grants to nonprofits in Chile and California supporting life-changing care for women and girls.
http://isabelallende.com/en/bio
Telgen, D., Kamp, J., Latinas! Women of Achievement, Visable Ink Press, 1996.