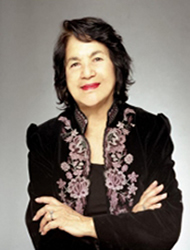 Chicana activist, Dolores Huerta, was awarded the Medal of Freedom by President Obama (2011). She was the co-founder of the United Farm Workers of America (UFWA) and a labor leader of Chicano farm workers since 1968. Currently (12/01/2021) she speaks across the country as the founder and president of the Dolores Huerta Foundation supporting equality and defending civil rights.
She negotiated the first contract with farmers through a boycott of grapes. The contract included higher wages and contributions to the union's first health and welfare fund. She very actively sought racial and economic justice for farm laborers. Today she continues to advocate for the farm worker through her own foundation.
Born in 1930, in Dawson, New Mexico, Dolores was taken to California as a child when her parents divorced. Growing up in California offered her childhood music and dance lessons and she was also a member of the Girl Scouts of America.
By 1940, Dolores's mother had remarried to a restaurant and hotel owner and brought Dolores and her brothers in to work at the restaurant. Dolores had always remained in touch with her father back in New Mexico. He became her catalyst when he began to be active with labor unions and returning to school. He earned his college degree and went on to run and win as a state legislator of New Mexico working toward better labor laws. Dolores earned her college degree in teaching and was one of the very few Latinas who had begun attending universities in the early 1950s.
Having taught shoeless, hungry children, she realized being a teacher was not helping the root of their problems. She left teaching to work in an area where she could be more effective. She began to be an activist in her community by working for the Mexican America self-help association the Community Service Organization by registering voters, and training women to be union members and negotiators. She lobbied local government offices for changes as a member of the CSO.
By 1962, Huerta met Cesar Chavez through their work with the Agricultural Workers Association. He was a director of the CSO in California and Arizona. Their common interests of a farm workers union, lead them to leave the CSO and start the National Farm Workers Association which was later renamed the United Farm Workers (UFW). Bringing their children together and relocating to Delano, California, they worked endlessly forming and guiding the union, signing up farm workers and negotiating contracts with farm owners. Huerta mapped out the strategy for the grape workers strike, which included a successful boycott of grapes across the east coast that was supported across the country. This was followed by many more accomplishments including helping pass legislature for unemployed, and disability benefits. These victories did not come without a price. Huerta and Chaves were arrested many times for their protests and she survived a near death beating by police which brought about a change in the San Francisco rules regarding crowd control and discipline.
Huerta inspired many women with her powerful and tireless approach. She brought many feminists, community, religious and Hispanic groups including student protestors and peace groups into the cause of rights for migrant farm workers. In 1973, Casa Huerta was established and named Huerta as the union's first president, two years before the Agricultural Labor Relations Act was signed. It was the most important bill of rights, for the rights of farm workers to negotiate better wages and working conditions with farm owners. This was the result of the grape boycott that lasted 5 years. Huerta has continued her tireless work until today.
Having helped in so many issues regarding migrant workers, her work has crossed over into helping consumers and the environment in speaking out against toxic pesticide use. Huerta helped enact the important Immigration Act of 1985 allowing immigrates to receive benefits. She also helped in elections with Robert F. Kennedy acknowledging her support in the 1968 California Democratic Presidential Primary minutes before his assassination.
Besides helping form the first farmer workers union, she also helped establish organizations that further help immigrants and migrant workers such as the Robert F. Kennedy Medical Plan, the Juan De La Cruz Farm Worker Pension Fund, the Farm Workers Credit Union and the National Farm Workers Service Center, Inc. which provides affordable housing and offers radio communications in Spanish.
Dolores Huerta continues to work as the founder and president of the Dolores Huerta Foundation voicing her lessons learned from her experiences as an activist. After meeting Gloria Steinem and joining the women's liberation movement Dolores continued her activism in motiving the Latino vote and educating women in feminism and women's rights.
Huerta's awards include the Presidential Medal of Freedom (2012). In accepting this prestigious award Dolores said,
"The freedom of association means that people can come together in organization to fight for solutions to the problems they confront in their communities. The great social justice changes in our country have happened when people came together, organized, and took direct action. It is this right that sustains and nurtures our democracy today. The civil rights movement, the labor movement, the women's movement, and the equality movement for our LGBT(Q) brothers and sisters are all manifestations of these rights. I thank President Obama for raising the importance of organizing to the highest level of merit and honor."*
Other awards are the Outstanding Labor Leader Award (1984), the National Women's Hall of Fame (1993), the American Civil Liberties Union (ACLU) (1993), the Roger Baldwin Medal of Liberty Award, the Eugene V. Debs Foundation Outstanding American Award, the Ellis Island Medal of Freedom Award, the Consumers' Union Trumpeter's Award (1998), "Women of the Year" award from Ms. Magazine and "100 Most Important Women of the 20th Century" of the Ladies Home Journal.
Ms. Huerta has six schools named in her honor and three honorary doctorate degrees from New College of San Francisco, 1990, San Francisco State University, 1993 and S.U.N.I. New Paltz University, 1999.
Sources:
Diane Telgen and Jim Kamp, Latinas! Women of Achievement, Visible Ink Press (Detroit), 1996.
Nicholas E. Meyer, The Bibliographical Dictionary of Hispanic Americans, Facts on File, Inc. (New York), 1997.
*https://doloreshuerta.org/doloreshuerta, (12/1/2021)