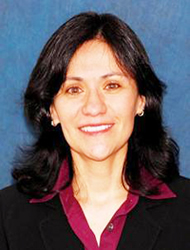 …was appointed by President Barack Obama and began work on March 4, 2013 until 2017 as the chairwoman of the Federal Trade Commission, the agency in charge of protecting consumers and enforcing antitrust laws in the United States. She protected consumers and promoted competition in the technology and healthcare sector safeguarding consumer privacy, and protecting vulnerable communities from deceptive and unfair practices" https://www.ftc.gov/about-ftc/biographies/edith-ramirez (12/2021). She is the first Latina and the first member of any ethnic minority to be appointed in this position.
Ramirez was born in Southern California to Mexican immigrants and graduated from Harvard Law School cum laude in 1992. During this time, she served as an editor of the Harvard Law Review. She also holds a A.B. in History magna cum laude from Harvard University from 1989. She was sworn in as a Commissioner of the FTC on April 5th, 2010, and before that she gained considerable experience representing clients in issues of intellectual property, antitrust and other matters.
Ramirez served on the Board of Commissioners for the LA Department of Water and Power as Vice President. In 2008, Ramirez was an important part of then-candidate Barack Obama's campaign, as the Latino outreach director in California.
As a lawyer, she is now working in the private sector helping companies with privacy and data security here in the U.S. and abroad. We congratulate Ramirez for her hard work and for representing Latinas in the United States. She is an inspiration to aspiring Latina law students and professionals.
Sources:
https://www.ftc.gov/about-ftc/biographies/edith-ramirez
http://globenewswire.com/news-release/2013/03/01/527586/10023745/en/United-States-Hispanic-Chamber-of-Commerce-Applauds-Edith-Ramirez-s-Appointment-as-Federal-Trade-Commission-Chairwoman.html