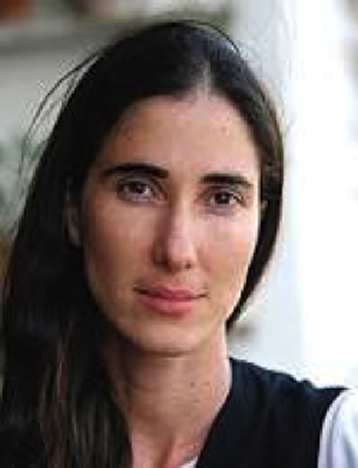 Born in Havana, Cuba on September 4, 1975, Yaoni Sanchez is an influential blogger and a real heroine for her fearless narrations of life in Cuba. She has earned multiple awards and is followed by over a million readers between various websites, and her own Generation Y blog site. Her articles have earned her numerous journalist prizes. Her dream at the age of 18 was journalism, but in fact she was educated in Philology and Spanish Literature. She graduated in 1995 from the Faculty of Arts and Letters at the University of Havana.
Denied a teaching license because her dissertation entitled Words Under Pressure: A Study of the Literature of Dictatorship in Latin America, provoked Yoani to travel to Switzerland in search for a better life. She could no longer tolerate the oppression of Communism and its' socialist ways of no privacy and the lack of free speech, along with the constant lack of basic necessities blocked from importation due to the U.S. embargo.
However, after her experience living outside Cuba, she gained an awareness of the power of computer technology. She made the decision due to family issues, to return to Cuba with the determination to conduct her freedom of expression through social networking. The repression of living in Cuba as a child through adulthood with bottled up impressions, thoughts, and opinions, lead her to the formation of her blog Generation Y. Y represents Yoani as well as many of the youth born in the 70's and 80's that was referred to as the "Y generation" across the world, but also the letter "y" associated the identity with the spelling of Russian names and loyalty to the Communist Russian influence.
During an interview, Yoani Sanchez says of her Generation Y blog that it is the tool to exercise her right to expression. She shared, "I considers myself a citizen of the world, confirmed by my travels, that I speak the same technological language of the modern 21 century of the people of the world. "(MotherboardTV, Apr. 15, 2013). President Barack Obama, commended her efforts to "empower fellow Cubans to express themselves through the use of technology," (Huffingtonpost.com/yoani-sanchez, 4/25/13), "without fear and without reprisals," (http://www.desdecuba.com/generationy/?p=1179, 4/25/13).
Besides on her own blog site, her articles can be found in The New York Times, Foreign Policy Magazine, to the on-line news site The Huffington Post and linked to hundreds of other independent websites as of this writing (4/2013). Yoani's has published two books Havana Real, (Melville House, 2011) a collection of stories from her writings preceded by Cuba Libre/Free Cuba (Debate Editorial, Spanish, 2010).
Among her awards Yoani has received The International Women of Courage Award in 2011 by the United States Department of State; Spain's prestigious Ortega y Gasset Prize; from the International Press Institute the World Press Freedom Hero Award; Columbia University's Maria Moors Cabot Prize; from the Netherlands the Prince Claus Award among others. Time magazine and Foreign Policy, respectively, have named Yoani Sanchez among their list of most influential people of Latin America in 2008. Foreign Policy named Yoani one of The World's Top Dissidents of 2010.